Non-Profit Annual Report Production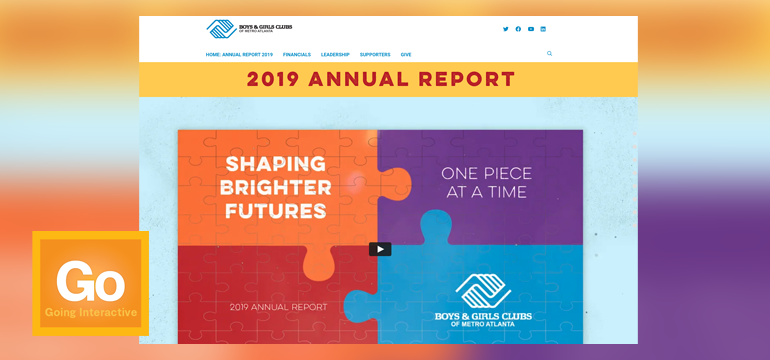 Going Interactive was proud to once again be a part of the production of the Boys & Girls Clubs of Metro Atlanta's Annual Report.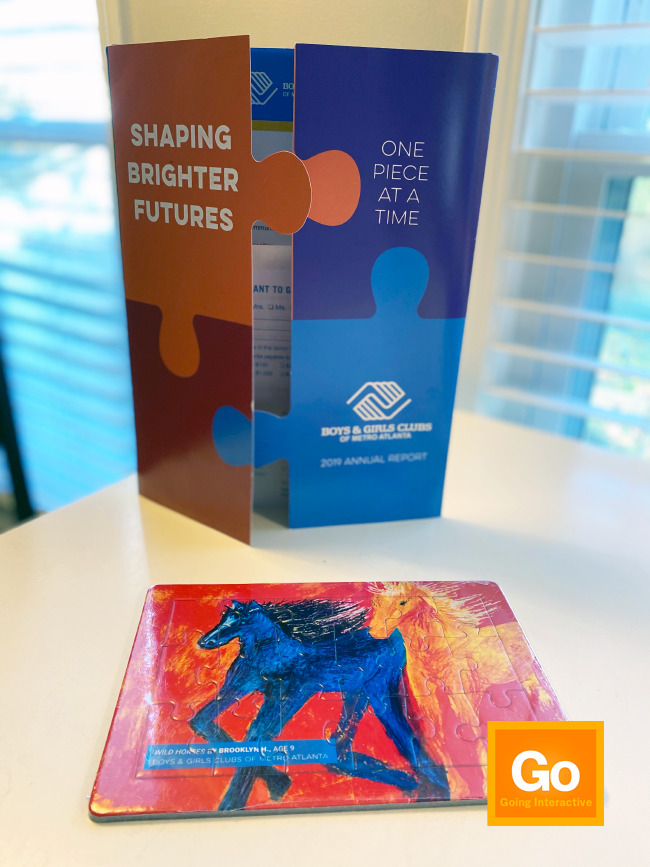 This year (as with the last few years) we designed and produced both the physical print version and an accompanying digital version of the 2019 Annual Report.
The theme for this year's BGCMA non-profit annual report was "Shaping Brighter Futures – One Piece at a Time" – which played off a puzzle motif.
The print piece was designed with a puzzle open cover and even included a real jigsaw puzzle featuring artwork by a talented kid member of the Club.

The online interactive version featured a puzzle themed overview video featured in long scrollable parallax photo reveal web page.
Both versions included a letter from the Clubs President & CEO, David Jernign and covered BGCMA's big accomplishments in 2019.
Those accomplishments included the opening of BGCMA's first ever arts and innovation-centered hub, the John H. Harland Boys and Girls Club, the fact that nearly 800 teens explored career paths and learned soft skills they can use in the workplace, and that in 2019, more than half of the clubs middle and high school girls reported engaging in physical activity 5 times or more a week (a 54% jump from just two years ago).
A real life success story was included as well that profiled how club donations helped club member Kimberly Heard find her path to leadership in a compelling manner.
The annual report also expressed thanks to donors, pointing out with the help of donations…
– Nearly 10,000 kids and teens walked out of BGCMA's doors ready to take on their future
– 98% of the clubs Seniors in th3 "Careerbound Program" graduated from high school with a post-secondary opportunity
– 92% of teen members are volunteering at least once a year – a rate three times higher than their Atlanta, Georgia, and National Peers.
Going Interactive is proud to play a part in helping BGCMA in promoting their worthwhile cause.
More of Going Inteactive's Non-Profit Creative Work:
To find out how we can help your non-profit with print, digital and video creative, contact us here.