Touchscreen Slot Machine in Trade Show Booth – Gamification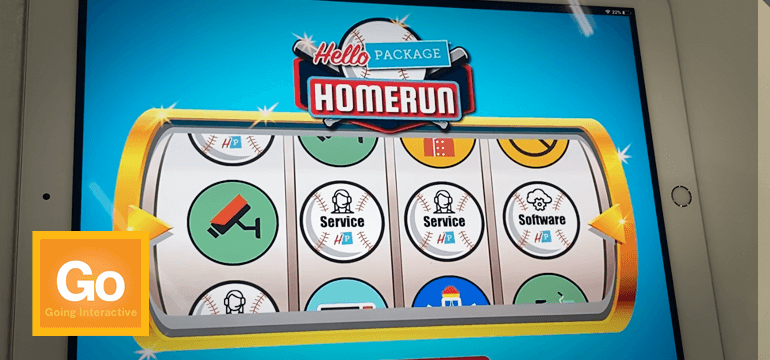 Custom Themed Touchscreen Slot Machine for B2B Exhibit Booth
One of our clients in the multi-family home industry put a customized version of our Play4our touchscreen slot machine application to great use at the Spring 2023 Atlanta Apartment Association trade show at the Cobb Galleria Center in Atlanta.
Baseball was the overall theme of the show (the 2023 season had just started and the Atlanta Braves Ballpark is adjacent to the convention center) and the client skinned the game "HP Home Run". The winning JACKPOT matching icons were four baseballs that contained marketing messages pulled from their latest campaign. At the end of each play session (which is four spins) – if the player didn't get the HOME RUN / JACKPOT – marketing messages were displayed reinforcing the four messages.  Instead of SPIN buttons, we had NEXT PITCH buttons.
Excellent Visibility in the Booth
The game was featured on two nice looking iPad Pro kiosk stations on the left and right of the booth. Monitors looping animated messaging were positioned behind each game station. The company's physical product – a cool package room for apartment communities – was setup in the center. Booth staff greeted passers-by, encouraged them to play the game and assisted them when they did. The booth actually won 2nd place for Best Booth in the whole show (which was huge).
Leads Collected
Players had to enter their name and info before playing. This provides for a great lead collection element of the booth. This was a one day – afternoon only show and the client was thrilled with over 50 leads generated by the digital slot machine game play.
Other Examples of our Touchscreen Slot Machine
This a great example of how our Play4our digital slot machine can be customized for a specific trade show or exhibit theme or company / brand marketing theme.
For more examples of our digital slot machine check out these links:
Play4our Digital Slot Machine for Tradeshows
Feature Story: RenthPath Play4our Digital Slot Machine
To schedule a demo of this or any of other trade show gamification games contact us today.