The Need.
The Boys & Girls Clubs of Metro Atlanta needed to refresh their online presence, both visually and technically. Their old site had been around for years and was a burden to keep up. It did not work across different devices and browsers either. There were virtually no decent search results or enough traffic to proper content. The pages that were coming up via search results were not written well or maintained. The corporate office also wanted to give the individual Clubs the ability to login and update their own news through a user friendly CMS. Going worked with BGCMA from the beginning in helping to decipher what visitors, Club members, potential families and donors expected to see once they got to the site.
The Solution.
Through a strategic exploration stage, Going Interactive interviewed various audience members, researched competitor sites, and did a full SEO analysis on the old site. A whole new approach including a responsive website was created. The site included fresh content, as well as a new user experiences that works across platform (mobile, tablet, desktop.) Creative photography was shot, new colors and fonts were chosen and the final design created to simplify exactly what BGCMA does across the Metro Atlanta area in Georgia. With over 25 Clubs, the site had lots of unique content which needed to be easy to find. The "Find a Club" map was developed to help parents discover the best location for their family. This along with multiple donation and volunteer paths set up for corporate and individuals were developed.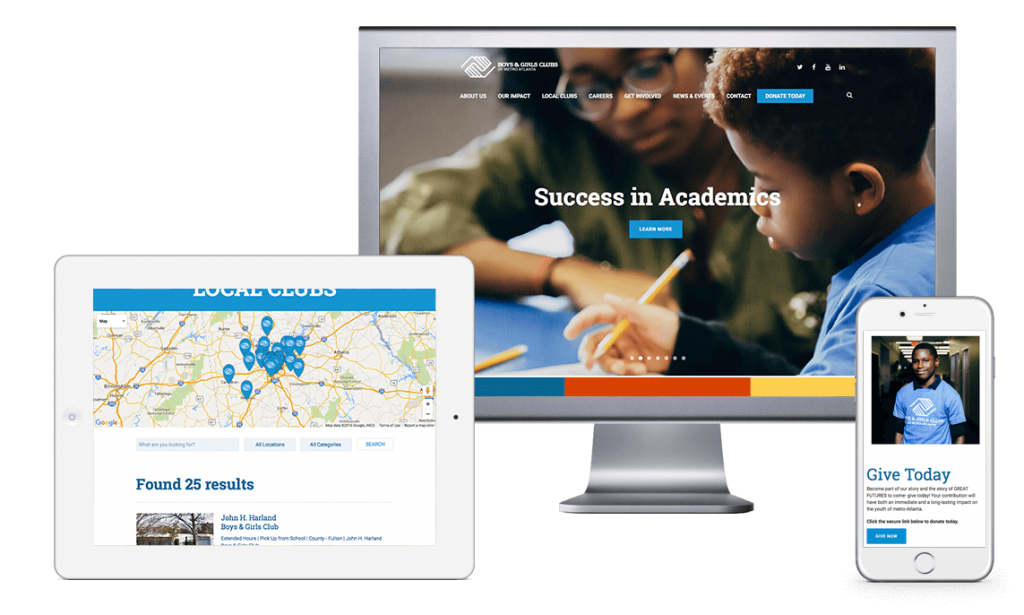 An extensive strategy process including interviews, audience research, content flow produced a unique user experience
Custom photo shoots were held in order to provide a real view to what happens inside local Clubs
A colorful and creative design was applied with a focus on responsive layout for mobile, tablet, and desktop devices

Going Interactive worked on strategic direction, usability, concept, creative design, development, see optimization, photo shoots and overall digital brand building.
Donations Increased by 37%.