Immuno Wars! – New B2B Marketing Gamification Project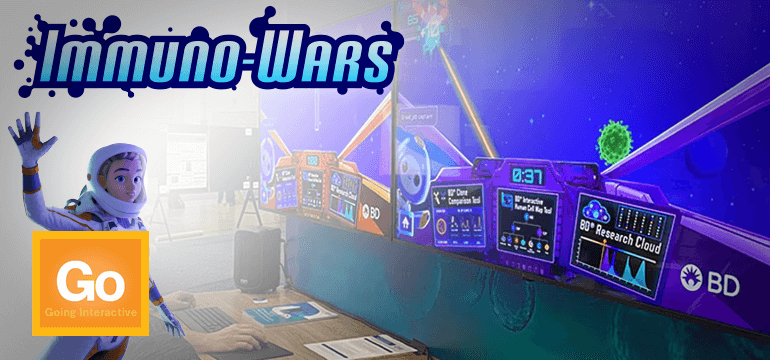 Immuno Wars is Going Interactive's latest B2B marketing gamification extravaganza.

Following hot on the heels of last years "Lab Hero" game, "Immuno Wars" is a first-person space adventure shooter game designed to promote biotech company BD's latest cytometry products and tools. It's a great example of utilizing gamification to make marketing to a somewhat technical audience more fun and engaging.
To experience the game, the player signs-up to play – or they can scan their badge if at a trade show – and then selects which "Cell Spaceship" they want to use for the game. The ships were custom designed and colored to reflect the types of cells.
After that the player chooses a "pathogen" to do battle with and are shown a "How to Play" screen. From there, there is a short countdown and then the action starts. The player uses a mouse or stylus to click the screen and shoot laser blasts at the "bad" cells – collecting points for every successful shot. And losing points for accidentally blasting a "good" game piece.
During the game play the custom designed "BDRC" robot co-pilot character offers fun inspiration phrases as the game timer clock counts down.  When the game is over the points are totaled and virtual coins are animated on the screen. That's followed by a leader board where the player can see if they made the top 10.
The game features 3D custom character designs and animation throughout.  And the client was able to use the richly colorful character images in signage and digital promotional materials.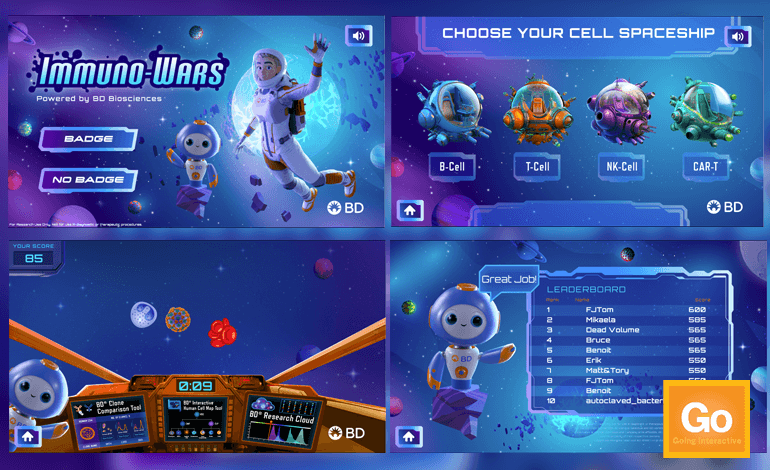 "Immuno Wars" will continue to be a B2B marketing gamification success for BD. They'll be using the game on touch screens in their trade show booths across the globe throughout the year as well in virtual events and internal events.
If you'd like a live demo of Immuno Wars – or any of our other digital games for trade show booths and exhibits – feel free to reach out to us anytime.
Going Interactive is happy to get your company and brand into exciting world of trade show booth gamification.