Digital Tradeshow Touchscreen Interactive Game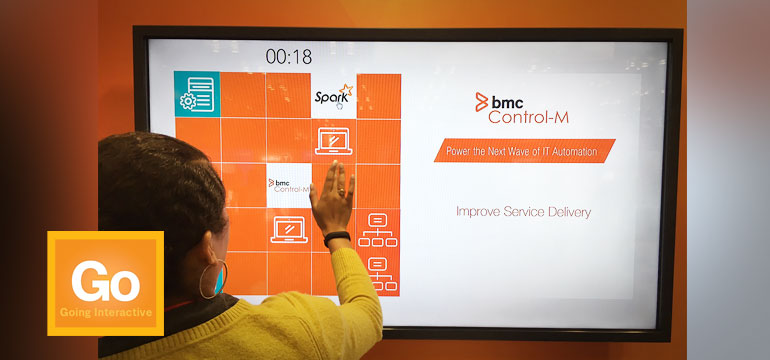 Here's a look at one of our digital trade show touchscreen interactive games in action at a client's recent trade show.
This particular digital touchscreen interactive game engages booth visitors interactively by having them match like pairs – typically images of your company's current marketing campaign elements or products & services. The player clicks a game tile, sees an image, then clicks another to see another image. If the images match – the player gets a "match" and the cards turn over.
The game is set for 3 winning levels based on the time the person completes the game. For example, completing the game within 30 seconds displays a "Platinum Winner" message, completing it within 60 seconds a "Gold Winner" and completing it in over 60 seconds a "Silver Winner" message. However, if you only wanted one level of "winning" – we could also provide a version like that.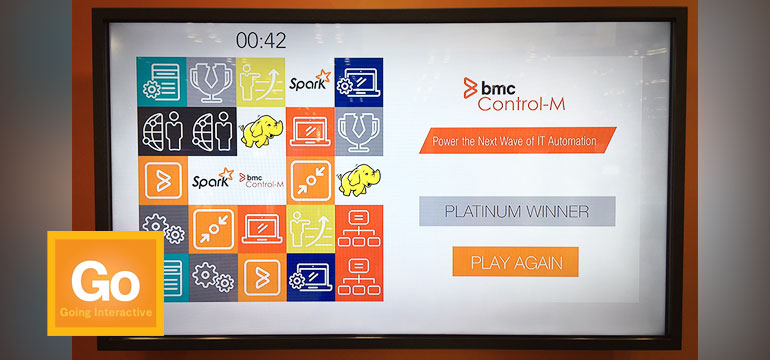 This client used the horizontal version of the touchscreen game, but we also have a vertical HD sized version – that provides a great visual experience on a rotated monitor mounted in a cool display or stand.
Here's some images of different touchscreens that are out there.
The game can also have a sign up to play – lead collection form if desired. The player would enter his or her name and email on a screen before playing the game. After the show we provide a spread sheet of all the sign ups.
We can also provide a Leaderboard page – which displays the top scores from the game play.
For more examples of our trade show touchscreen interactive games see:
– Work Portfolio Feature – Interactive Touch Screen Game for Trade Show
– Digital Tradeshow Touchsceen Pairs Game
– Digital Prize Wheel Fun in a Trade Show Booth
Our trade show touchscreen interactive games are great for in-booth interactive marketing experiences. To find out how we can create one for you next event contact us today.