Trade Show Touchscreen Game with Leaderboard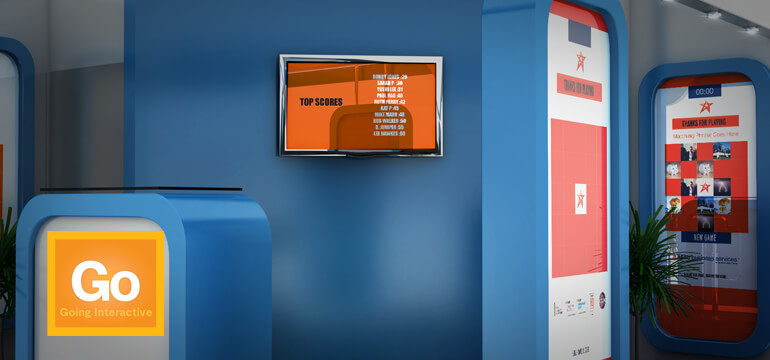 We're pleased to announce the release of a new digital "Leaderboard" option for our interactive trade show touchscreen games.
This exciting new feature can add a whole new level of interest to your booth visitors. In addition to the fun involved with actually playing the game, you can now create a sense of friendly competition by also displaying the top scores on a second monitor in your booth.
It works like this…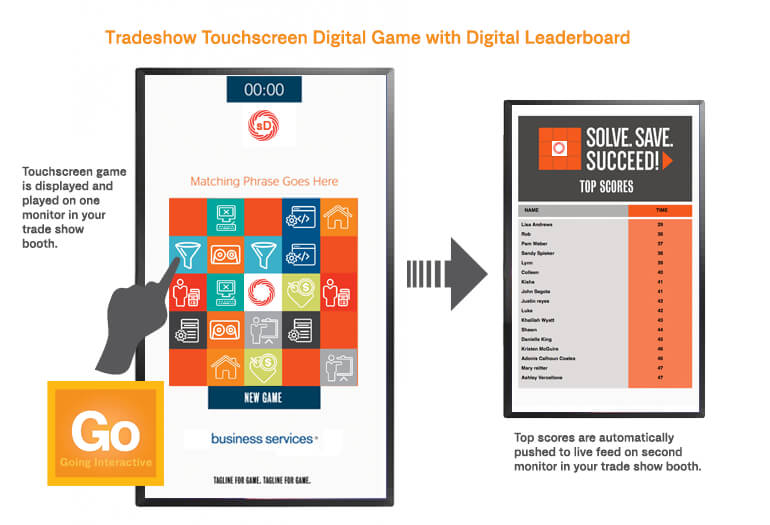 Before your booth visitor plays your interactive touchscreen game they fill out a simple digital entry form – entering their name and email address. They are then directed to the game play screen and when ready press the "START" game.
After the game ends, if their score is one of the Top 25 (for example) it automatically updates your game Leaderboard page. Players can instantly see if they made the top list.
The digital leaderboard brings an air of friendly competition to the visitors and players at your booth. You can even up the ante by giving prizes for the top scores. For example, we had one client who used our digital spin wheel to let the day's top players spin to win a cool prize.
We have a variety of great trade show touchscreen interactive games we can customize for your company's trade show booth. The games are great way to feature your current marketing campaigns as well as product and services. Overall each player spends an average of 2 minutes engaging with the experience in your booth.
Here's a few links to case studies and posts of them in use:
– Work Portfolio Feature – Interactive Touch Screen Game for Trade Show
– Digital Tradeshow Touchsceen Pairs Game
– Digital Prize Wheel Fun in a Trade Show Booth
– AG Game in use
Ready to get a trade show touchscreen game with digital leaderboard activated at your next trade show? Contact us for full details.