Digital Summit Atlanta 2015 Takeaways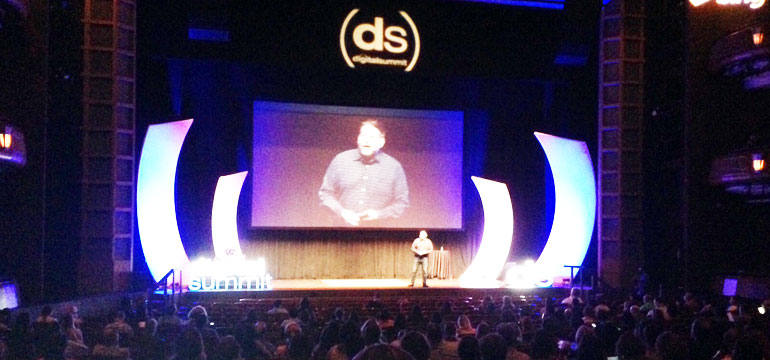 Digital Summit Atlanta 2015 Takeaways
I attended Day 2 of the Digital Summit Atlanta – #DSUM15 – conference held May 19 and 21 as the beautiful Cobb Energy Center.  My biz partner attended Day 1 – we split up the days so at least one of us was in the studio to manage our current projects.
I tried to mix up my sessions selections with marketing, social, UX and SEO topics.
Here's a recap of thoughts from the sessions I went to.
The Rise of the Marketer – Driving Engagement, Experience & Revenue
– Today's purchase process is BUYER driven – not seller driven. Meaning buyers today demand a meaningful brand experience than ever before. So you have to engage people as individuals, engage them over time, engage them as they are on their paths to an outcome, and engage them where they are.
Lean UX Secret: How to Engage & Delight
– My takeaway here was to get clients to really focus on defining what they do and who the truly are AND get them to define customers.  Ultimately arriving at a vision statement
A few "Lean UX" process activities presented were
– Mad Lib Brainstorming (with sticky notes)
– Wall Voting
– Create personas that clients can react to
– Create user stories can react to
Facebook's rule of Three: The Tools No Advertiser Should be Without
– My biggest takeaway here was that the presenter was a big advocate of using paid Facebook promotions to generate results.  That was something we here at Going Interactive were already believers in.  One of the main reasons for this is that Facebook's analytics are far better than the other popular social media channels at the moment.
The 3 big Facebook tools?
1) Audience Insights
2) Custom Audiences
3) Power Editor
Keynote Speaker Chris Brogan
I've listened to one or two of Brogan's books but never seen him in person give a speech until now.  He was fun, entertaining and inspirational. I really enjoyed his lunch time session.
His overall theme was a "Database of One".  Key takeaway points I got were that buyers are starving for attention, that data must be smart, mobile and fluid to take advantage of that and that we need to make our buyers the hero.
He also said email marketing is alive and well – if you do it right.  You have to segment your list and give the right people the right content.
Beyond the #Hashtag
I enjoyed this session with Ryan Oliver from Twitter. Admittedly I need to improve my personal twittering and tweet following skills so I thought I'd check this session out.
Key takeaways are that the best brands on Twitter:
– Have Personality
– Are adventurous (they try new things – new creative campaigns and content etc)
– Are customer focused – they provide great customer server, direct messaging customers with issues, etc
– They are Resourceful – like using Twitter "Cards" for example
– They are insights driven
– And they are timely
The Future of Content Marketing Roundtable
This one was kind of all over the place.  But the key takeaways I got were reinforcement the fact that when doing content marketing you need a documented content strategy that has defined goals.
Best Practices for SEO
This session's speaker was unable to make it so a colleague of his filled in with a session called Science Behind Organic Search.
This one was heavy on applying a scientific theory to SEO.  The main takeaway being the formula [Brand + unbranded keyword phrase + location] produces the best organic SEO results. Overall it was interesting to see science – not just "strategy" applied to SEO.
—
Overall, thanks to the folks who put the Digital Summit Atlanta on.  This was the first one I have gone to.  It was impressive and I'll definitely be attending future ones.