Digital Prize Wheel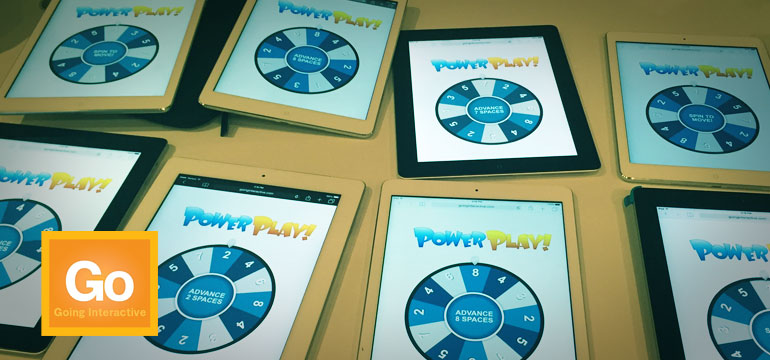 Digital Prize Wheel Fun in a Trade Show Booth
Here's another great digital trade show or corporate event tool.  A digital spin wheel!
Sure, we've all seen those oversized big – and slightly cheesy – prize wheels at booths and events.
But why not step into the modern age with a DIGITAL version of the prize wheel?
One that can be used on a touchscreen monitor. Or even on iPads.
Your attendees will enjoy the fun of the luck of the draw of the spin wheel, while digging the fact that you are doing it digitally.
Here's a few cases where they've been successful…
Case One
In this particular case we created a digital spin wheel that was custom branded to the client's marketing campaign at the time.
Booth attendees had iPads in hand and get visitors to first "register to play" by entering their name, email address,company name and position. When the submit button is pushed and the info is collected in a back-end database, the page refreshes to the digital spin wheel.
The attendee lets the visitor then spin the wheel to see what level of prize they win. It's great one-on-one time between the booth Rep and the potential customer / booth visitor.
At the end of the show the final register to play sign-up list is pulled and the sales team can follow up directly on the leads.
Case Two
This one was fun!  In this case the digital spin wheel was used with numbers as the pie slices – to tell players how many spaces to move on a giant game board installed on the floor.  Groups of four people played at a time.
There were mini-prize stations along the board. But the first one to spin enough steps to get to the "prize vault" got to open it up and claim a higher value prize.
This one is also a great example of combing an interactive digital element with a physical element to create a very memorable trade show booth experience.
Conclusion
At the end of the day we have to give the credit to our outstanding client for coming up with these great uses for the digital prize wheel!
And for bringing us aboard to produce the digital element.
For more info on how we could help you with your digital booth elements contact us today.