Interactive PDF for Corporate Communications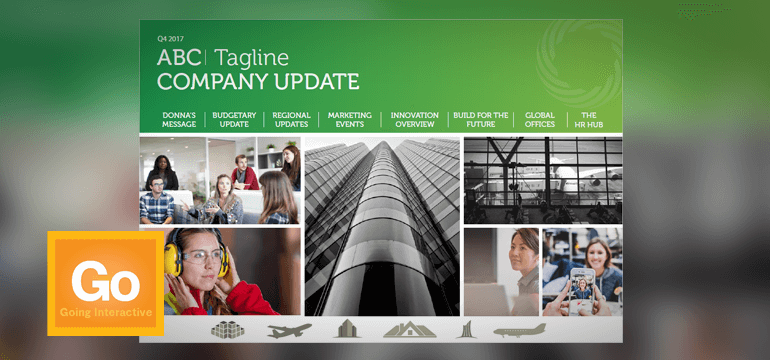 Corporate Communications – Quarterly Update Interactive PDFs
One of the most well received corporate communications tools we've produced for some of our larger organization clients over the past few years are and interactive PDF.
These interactive PDFs allow for a variety of content – articles, photo galleries, animations videos, external content links – to all be combined and distributed to an internal corporate audience – in one compact interactive document. The interactive PDF typically has a cover screen / menu screen that links to different content subsections. Each subsection may have "pop up" overlays that launch additional short form content.
Our clients have used them mainly for "Quarterly Update" or "Growth Report" style publications. After each quarter ends they deliver a content document to us that we take an implement to produce a new "issue".
Corporate wise, the interactive PDFs could be produced for one shot editions of important new content. For example, an overview guide to a new company wide environmental initiative or a new year's featured marketing program.
The Process
We initially meet with the client to determine the information architecture of the interactive PDF presentation. This could include a variety of corporate related division sections like "President's Update", "Regional Updates", "Supply Chain Update", "Technology Update", and "HR Update".
From there we commence visual design of the cover, the navigation look and feel, and then each sections overall layout structure. Any available branding guidelines or current corporate and marketing visual looks are taken into account to make sure the Interactive PDF matches existing company materials.
Production
Once the design is done we begin receiving content from the client for each section. We layout each screen and then "hook up" all the interactive elements of the PDF. The menu links and navigation buttons, pop-up screens, video links and external jump links (into new windows).
Multiple development test versions are produced as we work back and forth with the client to arrive at the final approved ready-to-be-released interactive PDF.
The entire production process (after the initial design is established) takes about 2-3 weeks.
Fulfillment
The interactive PDFs are usually posted on a client's corporate intranet. Then an email blast is sent to employees announcing the new issues is available. Email opens and PDF hits are tracked for usage.
If your company or organization could benefit from an Interactive PDF, contact us today for details on how we can bring one to life for you.