A Fun and Engaging Way to Train Your Salesforce Remotely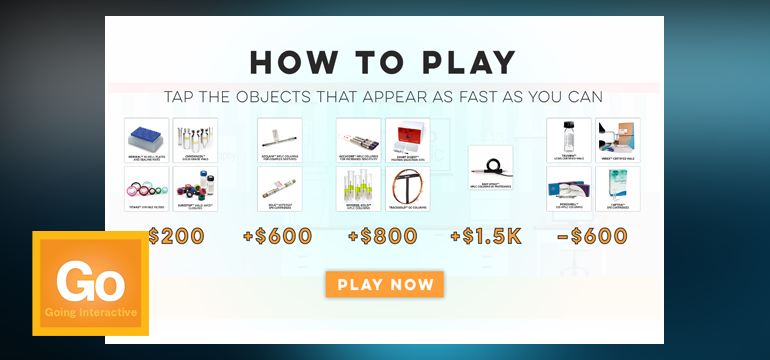 With a Digital Sales Training Game
In this new day of social distancing and remote working are you getting tired of endless video calls with your sales team?
They're probably tired of them too 😉
Need a new way to inspire them to promote your new products and services?
Our digital  games for businesses are just what the sales trainer ordered.
Our Sales Showdown digital game is modeled after the classic "whack-a-mole" game where game pieces pop-up and down and the player has to whack them.
After viewing the initial start screen that displays the monetary value of the products, the salesperson / "player" has too quickly select your most profitable products as they appear quickly on and off on the screen. While doing that they have to avoid the competitors products (which subtracts value points from the score).
They play against a countdown clock as their score / value of products chosen is tallied.  As the game continues the number and frequency of products that appear on the screen increases – making it get more challenging.
The experience makes for a fun quick (and multi-repeatable) training experience focusing on key products you want your Sales Reps to promote.
At the end of the game the players score value is displayed.
Creating Friendly Competition Among Your Sales Team
You can also  have a digital leader board that shows the Top Players. This encourages a friendly sense of competition among the sales force.
The digital sales force training game can be accessed via a URL from anywhere. So your sales reps in regions all over the globe can participate.
We customize each one for your unique brand, products and campaign look and feel.
The particular version shown in this post had two version, one with dollars for use in USA and one with Euros for use in Europe.
Our Sales Showdown digital game also goes over well at events – like sales meetings and retreats.
Contact us today to see a live demonstration of Going Interactive's digital remote sales training game "Sales Showdown".
You may want to also check out our other digital marketing and trade show games.