Digital Touchscreen Game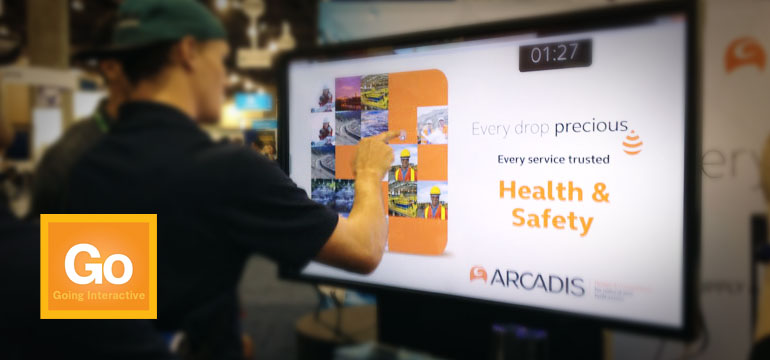 Touchscreen Trade Show Game
We'd like to thank our client for sharing some pictures of their recent trade show booth with the digital touchscreen game we produced for them in action.
This particular version was our memory / matching game. It was customized to support their branding and unique service offerings.
Visitors (and potential customers!) stopped by to play the game and won a prize if they solved the puzzle within 1 minute.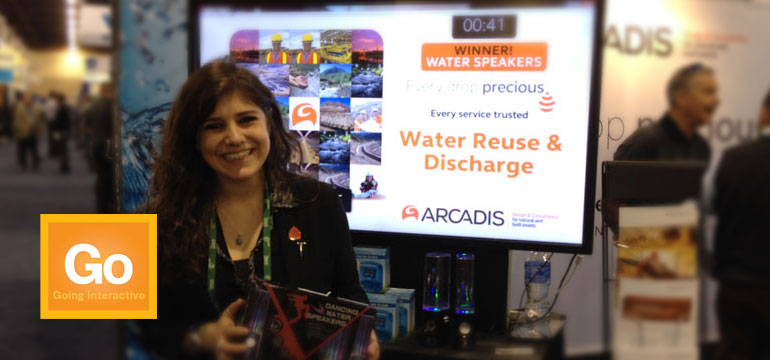 As you can see there were some happy customers!
Here's a synopsis of how it works:
After pressing PLAY, the game pieces are randomly distributed (in a grid) on the game screen.  The timer begins counting up from 00:00 minutes.
Players tap a game piece and and image is revealed (usually it is an image representing one of the company's products or services).  They then tap another piece and another image is revealed.  If the second image is a match a "success" sound plays and a piece of copy animates on describing what the matching sets represent – again, typically a key product or service.
If a match is not made on the second tap, both pieces turn back over and a subtle "failure" sound plays.  And the player starts again to try to make another match.
We program three levels into the timer so the client can choose how many seconds qualify as a Gold, Silver or Platinum level winner.
How about you?
If you are involved in creating trade show booth media for your company you may consider using a game like this.
It's a great way to engage booth visitors. And let them have a little "fun" while interacting with your brand.
We offer options from creating all new game just for you, to customizing per-existing games to work for your current marketing campaign or branding.
To see another example click here to a case study in our Work section.
And feel free to contact us today to find out how we can help you.