Memory Match Digital Trade Show Game for Touchscreens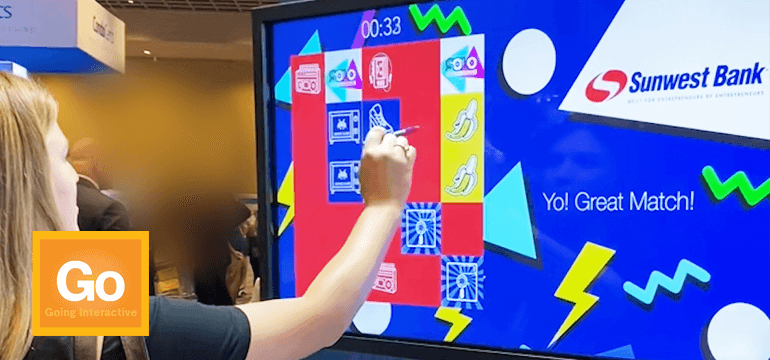 One of our most popular customizable digital touchscreen games for exhibit booths is our "Memory Match" game.
You could say it's a "classic" 🙂
In this game a set of 12 matching images are randomly placed and turned "over" on the game board.  The player then turns over 2 game pieces at time to try to match them. If a match is made a related message is displayed above or beside the game board.
The game board and game pieces are customized by us (or you) for your brand, products, or current marketing campaign.
This game can be used in both vertical and horizontal orientations, depending on the layout of your exhibit booth.
Did You Make the Leaderboard?
This Memory Match digital trade show game also has a leaderboard option available. With this option, players sign-up to play via a short entry form. Once they enter they are forwarded to the game board to start playing.
Our system tracks and ranks the Top 10 (or 15, or 20, depending on what you want to display) players times after the game ends. So, if the player's time is fast enough to rank they will see their name displayed.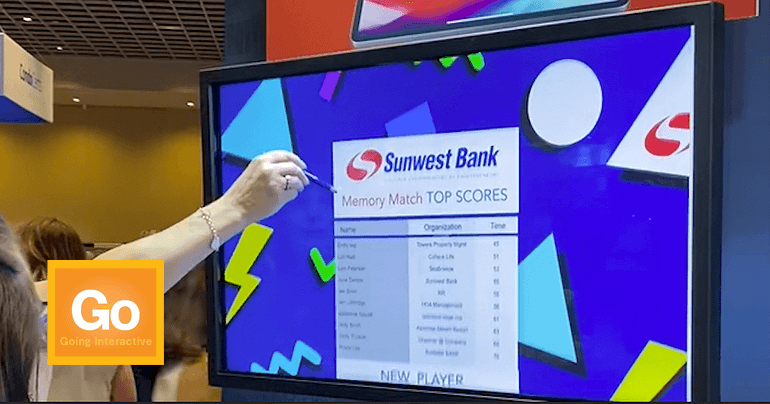 Great for Lead Generation
An in-exhibit booth digital game is great traffic generator and subsequently a great lead generator.  If you choose the lead gen form option for the digital Memory Match game, we supply the leads collected at the end of each day of your show, or at the end – depending on your preference.
Get Your Brand Gamified
This game is a great way to test out "gamification" in your event marketing arsenal.  We'll help you through you the process to make sure you get the best results.
Want to learn more? Schedule a demo session today.
And also check out some of our other trade show / exhibit booth gamification options.