Social Media Giveaway Campaign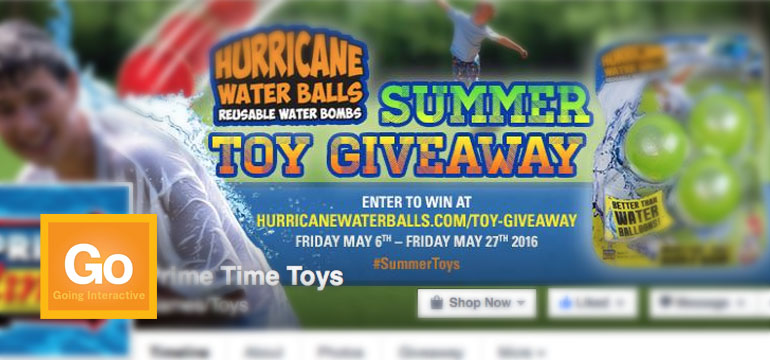 Promoting a New Product with a Giveaway on Social Media
Here's a look at a current social media "giveaway" campaign we're currently running for a client.
This one is to promote their new toy product "Hurricane Water Balls".
Hurricane Water Balls are essentially a modern take on the classic "water balloon" that you fill with water and throw at someone for fun.  But these don't break apart on impact (like regular old balloons). So they are reusable.
And they are very easy to fill – much easier than old fashioned water balloons.
They're available in most major big box stores this summer in the water toy section.
To help drive awareness of the new toy we launched a microsite for it and are currently running a social media giveaway campaign.
Every week during April we randomly draw a winner and send them two packs of Hurricane Water Balls.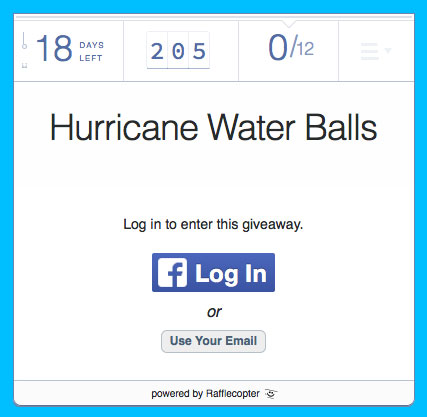 We use Rafflecopter to manage entries (and randomly pick winners).
Social Media Channels
Our main audience for the campaign is Mothers – the ones most likely to be buying water toys for their kids during the Spring and Summer.
The main social channels we use to promote the giveaway are Facebook and Twitter. During the month of the giveaway we'll Tweet out a variety of messages including hashtags like #Giveaway and #SummerToyGiveaway.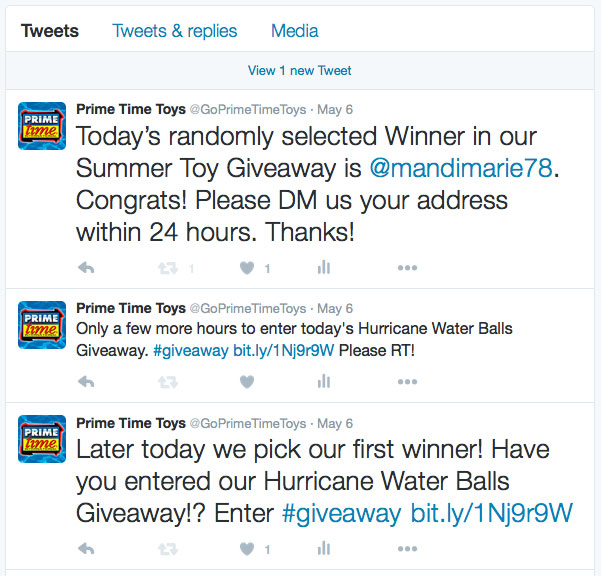 Of course, as you might expect #Giveaway is pretty hugely followed hashtag.  There are a LOT of Moms out there on Twitter looking for and promoting product giveaways.  And a lot of entries are generated from using it in posts – along with requests to RT (Re-Tweet) our messages.
On Facebook we post a variety of promotional images with links to the entry page.  We'll also boost a few of the key message ones to our followers and their friends.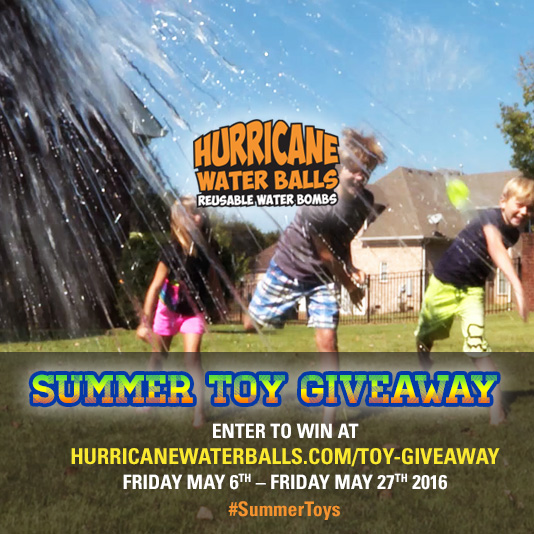 In addition to the social channels we also do an email blast to the client's master consumer customer list.  This always adds a boost to the entries as well.

At the end of the day (and the giveaway) we typically hope to have over 1000 entries, a boost in hits to the microsite, a boost in comments on Facebook and a sizeable number of re-Tweets and liked Tweets.
All of this contributing to higher levels of "awareness" for the new product.  So that with luck, the next time someone who saw the Hurricane Water Balls Giveaway is in their local Target or Walmart – they'll pick up a package!