Promoting a New Program with Gamification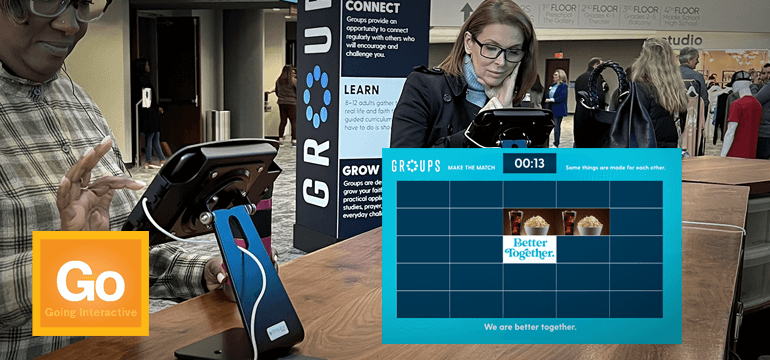 If your organization or company is launching a new internal program to your members you may want to consider gamification as a way to promote it and encourage participation.
Take Buckhead Church in Atlanta, for example. They were launching a new season of their "GROUPS" Small Group program and wanted to promote it to church members.
Their large and inviting lobby / reception area was the ideal place to do it.  Sure, having great signage and displays would be the obvious way to promote the new program. But what about adding in an interactive game on mini game stations in the lobby that members could have fun playing? And through in a Leaderboard to add a sense of friendly competition?
Now we're talking!
We customized our Concentration / Memory Match game for Buckhead Church with a "Better Together" theme to promote their GROUPS program.
In this game the player clicks the game pieces – which show a specific image – over and attempts to find the matching image. Each time a match is made a corresponding message is displayed at the bottom of the game board. The game timer counts up as they attempt to complete matching all the image pairs as fast as they can.  The top scores are ranked and displayed on a leader board.
The interactive touchscreen game was used on iPad mini stations throughout the lobby.  The game was used for four Sundays in a row to build awareness about the new program.
BHC took advantage of our Leaderboard option and displayed it on separate monitors in one section of the lobby.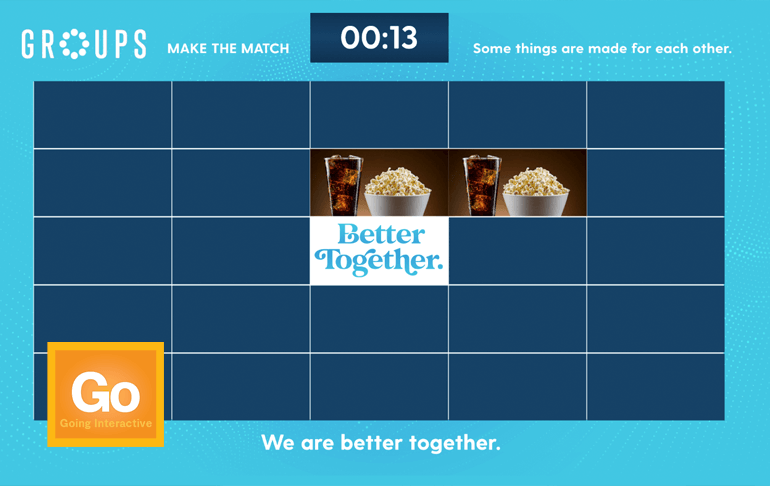 A digital game could be used to promote a new internal employee program inside a company's lobby (as well as online) or perhaps used a new marketing campaign in the lobby of store.
Going Interactive has a number of digital games for trade show and exhibit booths, new program gamification, and employee awareness programs.
Contact us today for live demo.