Digitize Your Booth Prize Wheel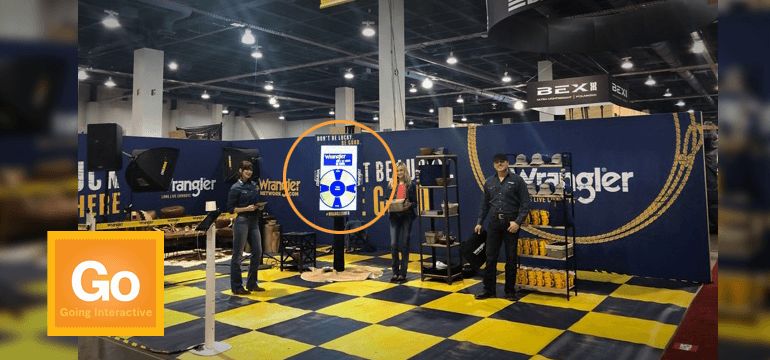 Digitize Your Prize Wheel
Tired of shipping and lugging around your big trade show spin prize wheel?
We've got an excellent option…a digital prize wheel!
Customized just for your brand.
Here's a shot of it setup in a client's event booth at a big multi-day event in Las Vegas.
In this particular event they gave away tons of swag. Each pie piece of the digital prize wheel had a different prize. With one slide being a "Gold Winner".
How it Works..
The digital prize wheel works on a touchscreen monitor (and even on iPads). The player simply touches the wheel, drags it and lets go. The velocity of the "spin" depends on how much the player dragged the wheel.
This client had so much booth traffic that we called on to swap out some prize names on the live wheel. That's another great benefit of the digital prize wheel – we can remotely update it during your show if you need too.
If you also want lead capture at your event booth, we can add a simple entry form before the game is played. The lead is collected in our back-end database and you are provided with the list after the show (or daily if you'd prefer).
Basically your visitor enters their name, company and email and hit SPIN on the entry page.  The prize wheel then comes on the screen ready for them to spin.
Wait, There's More…
Our digital spin wheel is part of our collection of great "Gamification" B2B digital trade show games that can be customized for your brand, product(s) or marketing campaign.  Other games available include our Memory Match game, Pairs Matching game and our "Tap Away" Whack-a-Mole like game.
Want to learn more?  Contact us today for a free consultation (and to see samples) on what the perfect digital trade show game for you might be.