Motivational Sales Video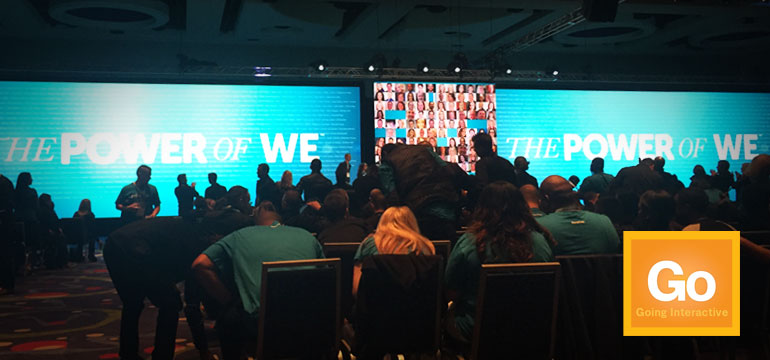 Inspiring the Sales Force
There's nothing like viewing your digital work on giant 15 feet by 45 feet extreme wide HD screens.
That is unless you're viewing it on TWO of those screens AND a giant 15×15 foot screen between them.
I was lucky enough to be onsite for one of our client's annual sales kick-off conferences and got to do just that. It was a great and fulfilling experience.
Here's how it all came together…
For approximately two months leading up to the event we (Going Interactive) worked on concept, design, live video shooting, custom audio mixing and animation of a series of key video content elements for the main hall's presentation this year.
We started with the all-important "Meeting Kick-off" motivational sales feature video. A piece designed to get the troops fired up to be there and proud to be a part of the company.
This video opened with animated messaging typography and company logos set to a custom music mix, followed by a series of photo collages featuring a variety of images of the sales reps from special events in their own markets from the past year. Everyone loves seeing himself or herself on the big screen right? Especially sales reps!
But the inspiration didn't end there…
At the actual event the client had scheduled to have a hip-hop dance crew (Collizion Crew from Atlanta) physically come out onstage and do a creative routine to support their new "Power of We" B2B marketing campaign at the end of our kick-off video.
To tease that in the kick off video we decided to do advance filming of the dance crew in advance and use it as a part of the video. The effect was fantastic. Just as our meeting kick-off video was ending with our pre-filmed cuts of the dance crew they appeared on stage – to the crowds cheering delight.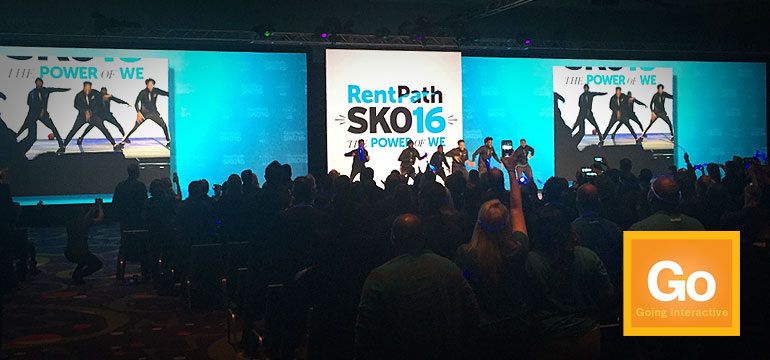 The dancers were followed onstage by a well known actor comedian who played their mascot during the previous years B2C marketing campaign.
That really got the audience fired up as the company President took the stage and sales conference was officially underway.
We also produced a killer animated intro series to the marketing department's feature presentation.
This sequence featured a large animated build of all the meetings names on the side 3:1 screens and a looping build of each of their faces on the center 1:1 screen. All set to the song "We've Got the Power" as the marketing team threw out t-shirts to the crowd and the CMO took the stage.
Aside from those two key pieces we created the animated looping background that other speakers' presentations were laid over, daily interstitial schedule animations, and lobby area schedules and promo videos.
All in all it was exciting to be able to produce such high profile and important video pieces for the client and it was a thrill to see them used in person.