Build Internal Company Awareness with a Digital Game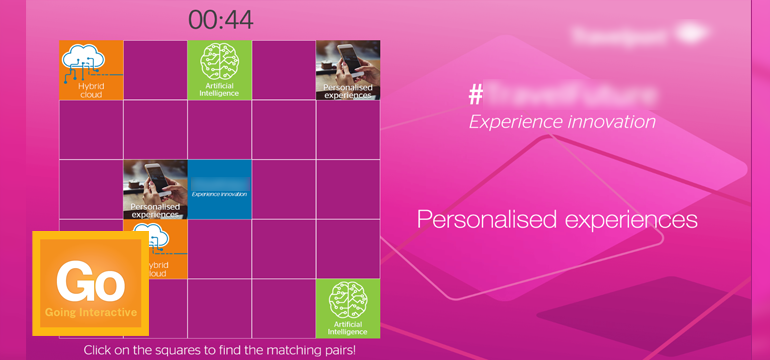 How can I improve awareness for a new company internal program?
Great question! We get asked it a lot.
Let's say for example…
Your corporate communications team has been working hard on new company wide program to promote a new Human Resources initiative (for example).
You're proud of it and want to be successful. You want employees in ever part of your organization to get on board with it.
So, just how do you go about spreading the word?
Of course you can do the typical email blast, you can do the old "town hall" virtual meeting and push it, you can print new promotional posters to be hung around your offices.
But what about adding a custom digital game – to the promotional mix?
A game that can be played by everyone in the company from any location.
A game that promotes the key elements of your new program.
A game that's fun and generates a spirit of fun competition among everyone (by providing a Leaderboard of Top Players)
Our digital Memory Match game (one of many we offer) can do just that.
In fact one of our large corporate clients, who has thousands of employees in locations and divisions around the globe used a customized version of Memory Match with great results.
The way it works…
The unique game URL is pushed out with promotional messaging and graphics to the company employees.
Employees go to the Sign In to Play page, enter their name and select what Division they are in.
They then are directed to the Memory Match game play screen where they click to turn over and match key images of the new program. A counter clock starts keeping time. As a match is made an explanatory phrase populates on the right side of the game board.
When the player matches all the cards they're finished and get an end of game message – which can be customized for 3 levels of timed scores.
They then click to See the Leaderboard and can see if they made the cut. The Leaderboard lists the Top Players names and copmany Divisions. So this helps create a sense of competition among the different divisions.
The Results….
The game was promoted internally to 3500 – 4000 employees in regions across the globe (North America, APAC, LAO, EMEA).
This particular campaign lasted the month of September and and gained approximately 8,500 unique page views with an average time spent per session of 3:32
We watched numerous players come back to play and try to improve their scores over the course of the month.
The client was very pleased with the result and intended to let other divisions use their own version of the game.
But wait, there's more…
In addition to our Memory Match internal digital company game we have other options. Corporate communications aren't the only departments that can take advantage of a digital game.  Like our Sales Showdown game  that lets Sales Reps compete to select the product bundles. Or our Perfect Pairs digital game where players match products with logos, or products with packaging. That one is great for marketing departments and in trade shows.
Contact us today for a demo and estimate on our digital games for businesses and companies.