Trade Show Touch Screen Game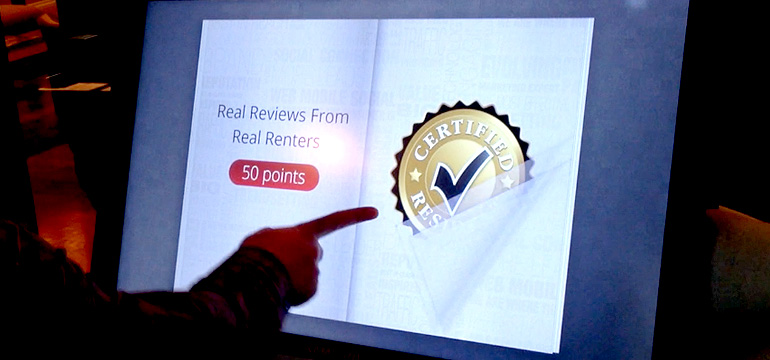 Trade Show Touch Screen Game
Going Interactive has been producing interactive digital trade show touch screen games for Apartment Guide B2B marketing for some time now.  As technology advances and marketing campaigns evolve we've been able to keep improving on the experiences booth attendees have.
A recent example of this was the creation of digital trade show touch screen game / activity to support Apartment Guide's B2B "Turn the Page" campaign.
The campaign represented how Apartment Guide had "turned the page" from existing partly in a printed version to now being an all digital version (website and apps for all devices).  AG also wanted the activity to showcase key new B2B product offerings like the HD Image Pack and Certified Resident Ratings and Reviews package.
AG is known for the great swag they give our at their booths and wanted this new digital trade show game to help support the cause by having players randomly win certain "levels" of prizes.
Our solution was to work with AG and develop a large touch screen swipe game based on the "Turn the Page" metaphor. The booth visitor plays by swiping on the touch screen to turn a "book page".  The page turns and the subsequent pages rapidly flip left to right and randomly end on one of the new AG product offerings and a "point" value assigned to it.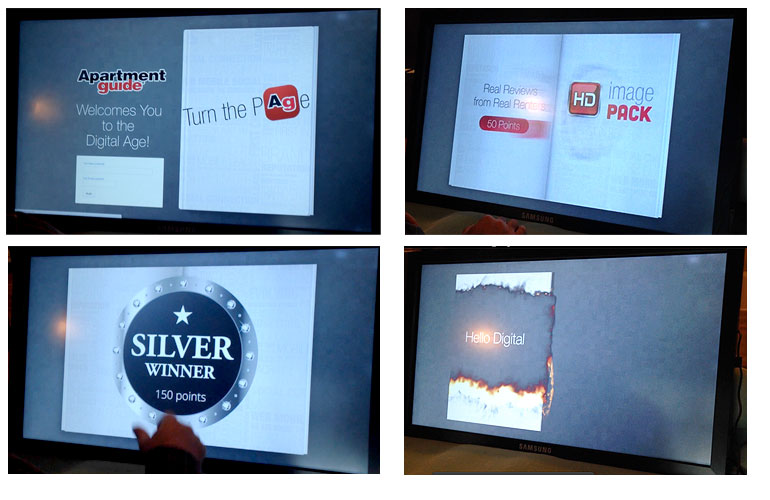 After the third swipe the player's points are totaled and they are presented either a Gold, Silver or Platinum winner screen.  AG booth staff would then distribute the appropriate prize to the player.
The game ends with an animation of the "book" burning into flame and revealing a "Goodbye Print… Hello Digital" message.
The digital trade show touch screen game was served up to the kiosk screen via an internet connection so we were also able collect names and emails from everyone who played by having them submit their info on the game start screen in order to begin.  A perfect in booth lead collection tool!
Here is a quick highlight video of us testing out the game in the studio:
After the initial launch of the game we developed an iPad version for use in smaller booth kiosks.
At the end of the show the new "Turn the Page" interactive digital trade show touch screen game was a hit with attendees as well as an excellent way to carry AG's B2B marketing campaign theme through with a digital experience.
If you're ready to up your game in your trade show booth (pun intended) then contact Going Interactive today and let's see what cool branded experience we can create together.