Atlanta Snow Storm Hits Going Interactive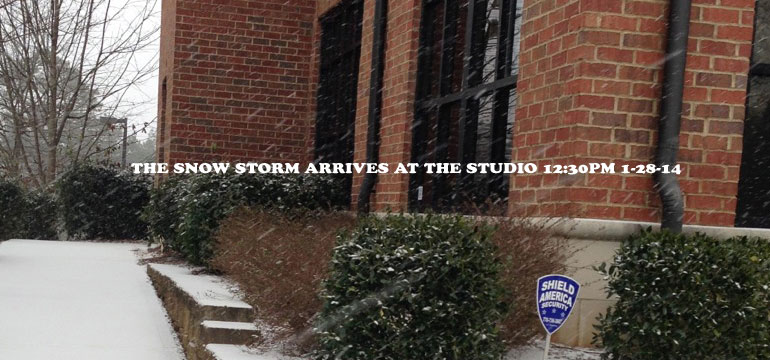 If you watch the news you probably saw that our fair metro of Atlanta was brought to a standstill last week with a huge snow storm that sneaked up on us.
We came into the office on Tuesday morning with the thinking that a mild snow storm "might" be coming in the afternoon. But about 12:30 I turned around to look out my window and noticed the snow was indeed falling.  Falling fast and falling heavy.
We quickly decided we'd better make a run for it to escape being stuck at the office and shut down our computers to leave.  Unfortunately that's EXACTLY what a few hundred thousand other people all decided to do at that EXACT moment.
As soon as I pulled out on to the roads I realized "aw oh, this doesn't look so good".   Traffic was everywhere and everyone was pretty much driving 10 miles an hour as the snow fell and the roads began to ice beneath our tires.
Fortunately most of live relatively close to the office and were able to slowly inch home within an hour or so. But one of our team members wasn't so lucky. GI James got stuck in his car for 9 hours as he tried to get home from our studio in Roswell to Kennesaw. Poor James! Luckily he just happened to have a blanket in the car AND a sketch book. So he was able to pass the time doodling as he inched along.
Anyhow, we ended up internet commuting the rest of the week. But we're back in action today at the office pushing those pixels!