Sales Conference Kick Off Video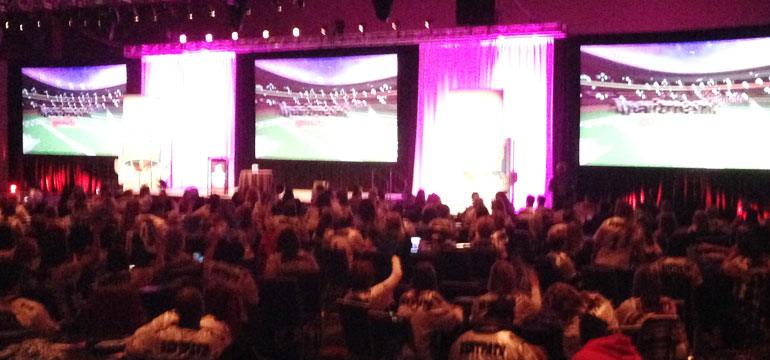 Sales Conference Kick Off Video
I'm back in the office now after an exhausting but very rewarding 4 days helping our client Rent Path out at their 2015 Sales Kick Off Conference held at the Atlanta International Convention Center.
What an inspiring event it was!  The combination of keynote speakers (like Joe Theismann, Sam Glenn, Desi Williamson), uplifting speeches by the CEO and President of the company, and a number of excellent break out sessions provided their national sale rep teams with education, inspiration and tools they need to tackle 2015 goals.
Going Interactive was fortunate enough to be able to produce the sales conference kick off video, the between session interstitial video loops, a sales training video for a break out session.
Overall the conference had a football theme and the sales conference kick off video we produced was killer combination of 3D graphics and animation, sports arena style BIG voice over, and 2D graphics of client testimonials and photographic imagery of employees and sales teams – all synced to a medley of PUMP YOU UP music tracks.
When the 400+ attendees took their seats at 8:15 AM Monday morning, the lights went down and the sales conference kick off video took over the three large projection screens while the rock concert sized sound system pumped out the audio. The audience immediately got into it and began cheering. It gave me chills to watch them get pumped up by the video we'd been working on non-stop for the past 3.5 weeks!
Here is a clip of the kick off video during a pre-show run through:
After the sale conference kick-off video, and throughout the rest of the conference, our 3D animated graphical football themed interstitials shown between sessions helped inform the attendees of upcoming speakers and break out sessions. We produced an interstitial looping video set for each day of the conference.
At the end of the three and a half days I know the sales reps were fired up and ready to catch their flights home to get back to their markets and start selling!
Hats off to Rent Path and all the hard-working team members who put together their 2015 Sales Kick Off Conference. We were honored to be a part of it.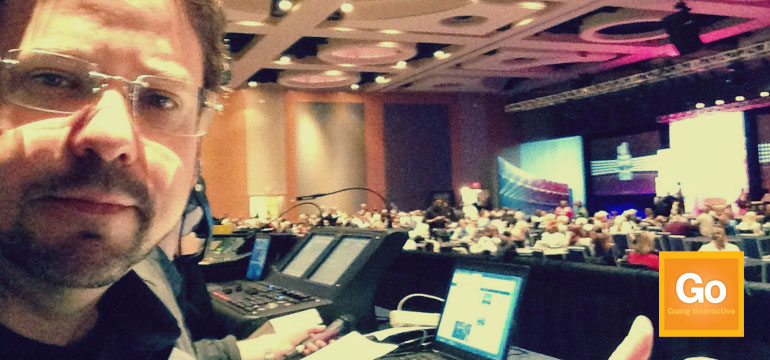 If your company has a sales conference or company retreat coming up, Going Interactive would love to help you produce an inspiring sale conference kick off video as well as any other conference digital media you may need.
Contact us today for a free consultation.