Atlanta Responsive Website

Creating digital solutions that can be easily seen and used across desktop, tablets (like iPads), and mobile devices has become essential among many products and services.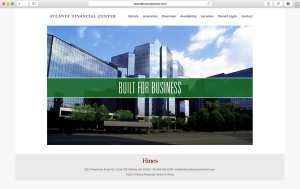 Hines came back to Going Interactive to upgrade their original Buckhead based – Atlanta Financial Center Flash website into a streamlined CMS based responsive website. Going Interactive produced the original Flash website back in 2006 and it lasted seven years but based on the current technology and client audience base, the website needed a technology update so viewers could visit the website from any device.
The B2B corporate website features current building availability, as well as area amenities and building overview info. The Atlanta responsive website not only matches the AFC brand, but also gives sales and leasing consultants an easier way learn more about AFC.
Are you looking to upgrade your company digital presence? Contact us today and let's get a conversation started.