Non Profit Website Design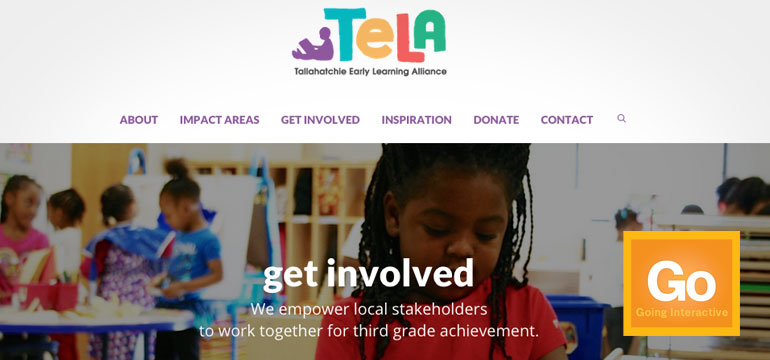 New Non Profit Work:
"We Are TELA" Website
Going Interactive recently wrapped up design and production of a brand new responsive website for Mississippi based non profit organization – The Tallahatchie Early Learning Alliance.
"TELA" is an initiative of the Tallahatchie River Foundation and is a collaborative program designed to support early childhood education in Tallahatchie County, MS.
The fully responsive website will serve as the go-to online destination for the non profit's PR outreach, marketing and donation materials.
The  Process
The first part of the project was the "Discovery" phase. In this phase we worked with TELA's  "innovation consulting" firm Popular Genius to get a solid understanding of the non profit and it's goals with the website. This involved a series of questionnaires and conference calls during which we came to understand their mission, the unique nonprofit service offering, their audiences, and their programs.
Next we completed an Information Architecture & Usability phase where we mapped out the navigation and key content areas of the website. It was important that we addressed each anticipated audience's needs – guiding them on the right path to the content they would be looking for.
From there we moved on to the visual Design phase.  With the wire frames created during the IA phase as our guide we created a handful of visual design approaches to the new non profit website.  Designs were shared and a final version was selected.
Next came the Production phase.  This is an exciting phase for clients as they finally get to see their new website come to life. In this case we used WordPress as the content management system (CMS) to develop the site. Using WordPress makes for an easy-to-update and SEO friendly website. Two very important things for online non profit marketing.
Ascetically: 
TELA now has a clean, easy-to-use website that clearly communicates their mission and their unique benefits to the community as it works to generate support through involvement and monetary support.
Technically: 
TELA's new website is fully responsive – it will resize itself to the display correctly on any device (mobile, laptop, tablet).
It is driven by an easy-to-use CMS that allows them to easily update page content and publish SEO friendly blog posts.
And lastly it allows them to easily accept Donations through the website.
How Can We Help You?
To find out how we can help you with non profit website design contact us today.