Digital Slot Machine Game for Trade Shows and B2B Events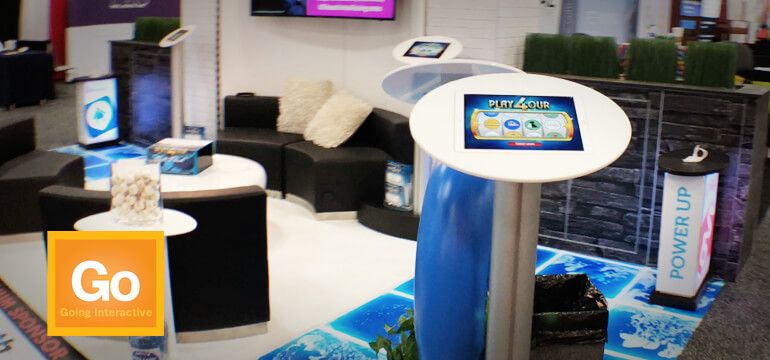 We're pleased to announce an all new B2B trade show digital game offering – a customizable digital slot machine.
Perfect for large touchscreen monitors as well as iPads and tablets, this new game will get your booth visitors engaged with your brand as the have fun trying their luck on your branded "slot machine".
It's colorful, animated and includes great spinning, slot and winning sound effects.
In fact, our first client to use the customizable digital slot machine trade show game said the game was big hit and was so popular they had to add extra iPads in their booth for all the visitors that wanted to play!
In this photo they have 5 iPad digital slot machine stations setup: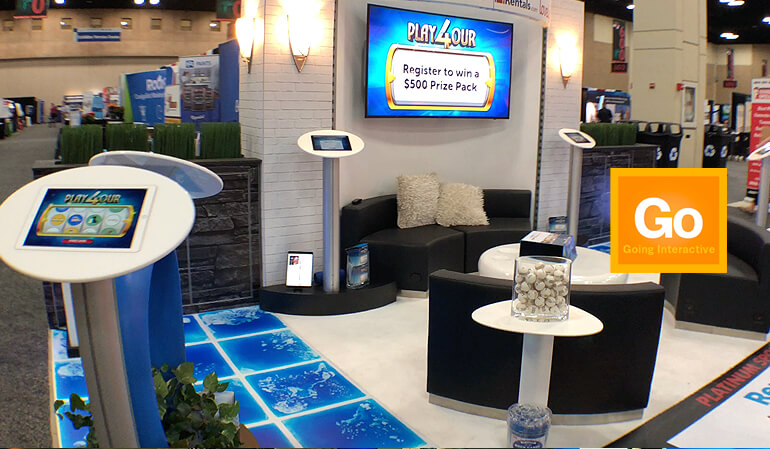 This digital touchscreen game has four "slot" rows that contain customized icons or images that represent your brand, marketing elements, or products and services.
After each game, a final "Thanks for Playing!" screen with a marketing message comes up and a "Next Player" button.
The winning odds can be set so that a JACKPOT winner comes up at certain intervals.
We also have a gateway lead collection screen before the player plays the game so you can have a list of all players when your event is over.  Perfect for post-show visitor follow up!
If you're ready for us to create a customizable digital slot machine for your trade show we suggest coming up with a catchy name for the game (like Play4our in this case) – we're happy to help you brainstorm one.   Then collecting a handful of marketing images- icons or photographic images – that can be used in the slots.
We'll take it from there in customizing the game to fit your needs.  And share development links along the way.  We'll also consult on the best equipment to use the game on.
Ready to get started?  Contact us today for complete information an demo links.