Sales Meeting Presentations for the 21st Century – Part 1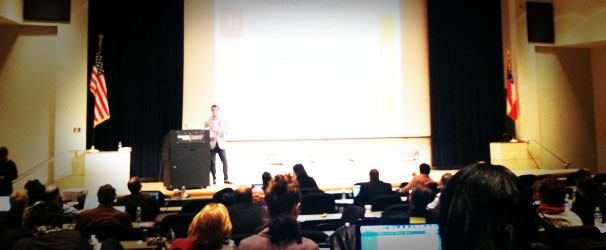 Our work as a digital creative agency isn't limited to web sites and video production. We are also engaged to work on digital event consultation and media for corporate meetings and business events. We love doing this type of work because it is usually very creative, very client collaborative, and has an excitement level about it due to the importance and immediacy involved. Not to mention we get to see our work used on a large screen engaging a group of people gathered together for a common purpose (almost like putting on a concert or play) – which is very cool!
If you work in corporate America or the b2b industry you've likely been to your share of events like these and experienced many different approaches, themes, styles and media. Some that may have wowed you and some that didn't.
Through the years, as we've helped clients on a variety of forms of these sales meetings, corporate retreats, and business conferences  we've assembled a list of of elements that we feel help make for an overall successful company meeting event experience.
Here is a a break down of the major list elements we'll elaborate on over the next few days here on the Going Interactive Blog:
Have a Great Meeting Theme

Use a Meeting Walk-In Loop
Inspire the Audience with a Meeting Introduction / Kick-Off Video
Make sure the CEO or Keynote Presentation Stands Out
Help our attendees out with Schedule Screens
Breakout Session PPT and Presentation Support
Awards Show Media