Review of GoPro Camera – HERO3 Black Edition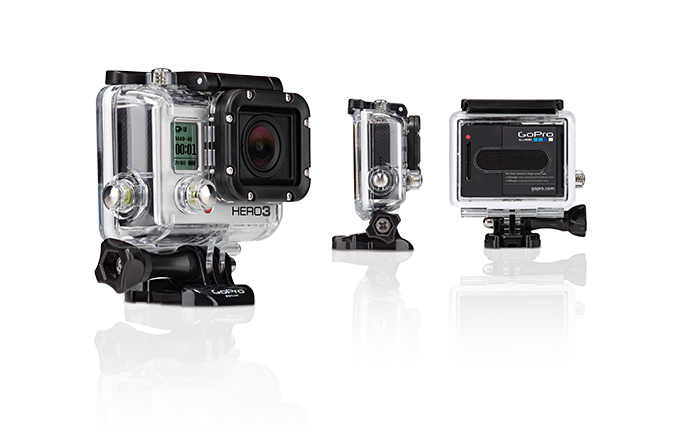 It started with the need to shoot some pool side videos for one of our clients – Prime Time Toys – who makes pool toys and water blasters. I needed shots where I could get totally soaked. So after some research, the GoPro Camera HERO3 Black Edition seemed like the perfect fit.
Why GoPro?
I chose the HERO3: Black Edition Go Pro Camera mainly due to the resolution options for trying to get some slow motion shots. I was able to do 1080p at 60fps and get the quality I needed for our online videos. For those who aren't familiar with the Go Pro Cameras, they are pretty cool! They are not only SUPER small and lightweight but can be completely waterproof (when in the provided casing). They are "wearable" or mountable to a variety of things (including body parts like your head / helmet or chest mounts). They also offer fantastic wide angle captures which provides a unique look of its own. The professional quality HD video is there along with high resolution photos if you need both. Other internal features such as continuous photo, manual white balance control, and built in Wi-Fi remote all help the HERO3 have some bang for the buck. Overall, even thought it's small, it's packed full of some great features. Like any camera though, you can get carried away with wanting (or needing) all of the "extras" – like special mounts, playback kits and more – so it keep in mind, it IS easy to get overwhelmed with all of the available options. I also downloaded the iPhone app they offer which also acts like the WiFi enabled remote. Still no playback on that app though :(. Here's the Go Pro site with all the specs www.gopro.com.
So…how was it?
I have to admit, it's pretty awesome. Now I'm not the most advanced videographer (in fact, not at all, more on the creative side than technical) but I was the guy in who was going to be in the right place, at the right time, with the right "actors".
My main goal going into this was to create short product videos to be used online and…
Show what the product looks like (build brand awareness and visual awareness for in-store purchase)
Show what the product does (how to use it without being a demo)
Show kids having fun with the product (both light uses and energetic uses)
End with call to action (URL – see / learn / buy)
To do that, I had to get my kids in a good looking pool setting and get as many action water shots as possible. To really get the camera to be part of the action, I wanted to include some POV shots with the water blasters in hand, as well as, get shot or splashed myself while holding the camera. The getting wet part and even going under water with the Go Pro was a perfect fit. Due to the small size it was easy to hold and still play. I bought a head mount but ended up just holding it most of the time as the angle seemed more realistic for this use. I didn't have any issues which prevented me from getting wet or 100% in the action. The one bummer I found was the lack of video playback on the Go Pro camera. You literally can't see anything through a view finder OR play back what you just shot on the camera itself. You either have to hook it up to your computer, or you can buy a playback kit – but that wasn't in the budget for me this time around. So I had to rely on the concept that, whatever I was physically looking at with the camera, was going to be what I got out of that specific shot. I was a bit nervous about that idea going into it, but again, the action oriented footage in water was more important to me than me getting the "perfect shot" which I probably wouldn't get with any camera anyway :). So I  used the Go Pro along with our Canon handheld to get all the footage I felt I needed. Looking back and depending on the end result required, I might try using the Go Pro for a whole shoot – assuming it's all action oriented. Either way, it worked very well, charged quickly, and had crystal clear HD footage.
End Result
Here's a collection of six :30 videos I shot over a four days of playing with the kids at a super scenic pool (and beach). My editing skills are a work in progress, so don't judge me too badly 😉
Overall, the "lifestyle" vibe came across as I'd wanted and they each video shows off the products in a fun fashion. Next time, I'd probably go for even more action footage and plan each and every thing I could think of prior to shooting. Due to the situation on this one and not having any other help on the shoot…this shoot was "all in my head" and happening on the fly.
1. Splash Bombs – Splash Sports Pack for Pool Fun
2. Monster Blaster Water Guns
3. The Max Liquidator Water Blaster
4. Hydro Blaster Target Shot
5. Hydro Blaster Power Tank Combo
6. Luminator Water Blaster
If you watched any of these and are pumped to get your own water blaster then check out the site we created for our client at – www.primetimetoys.com!