Play Max Mania! Fun Online Game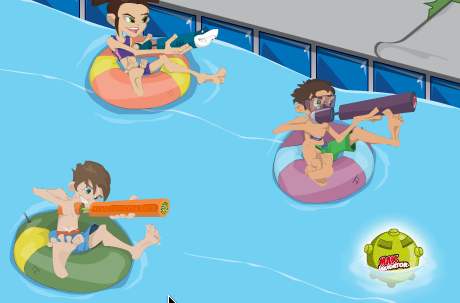 As part of our online marketing strategy for Prime Time Toys we produced a fun online game called "Max Mania."
The object of Max Mania is to guide your rafter through the pool while blasting for points (with a Prime Time Toys' Max Liquidator no less!) and dodging point reducing obstacles.   During the game play you'll see various other characters with Prime Time water blasters as well as more of their fun and colorful pool toys making an appearance (floating along in the water, on the screen level screens, etc).
We're always trying to promote new ways for our clients to engage with customers and fans, and incorporating an all-original animated game that includes brand messaging and PRODUCTS in it is a great addition. Aside from the obvious product promotions we also get users sticking on the site for longer than than they may normally if casually web-surfing. And that's valuable face time.
Here at Going Interactive we designed, illustrated and produced the interactive Flash game as part of the overall site development and marketing process.
Check out the Max Mania game here.
What a great way to promote your product or brand online! Contact us today to see how we can help you reach AND engage your customers.