Custom Illustrations for Social Media Graphics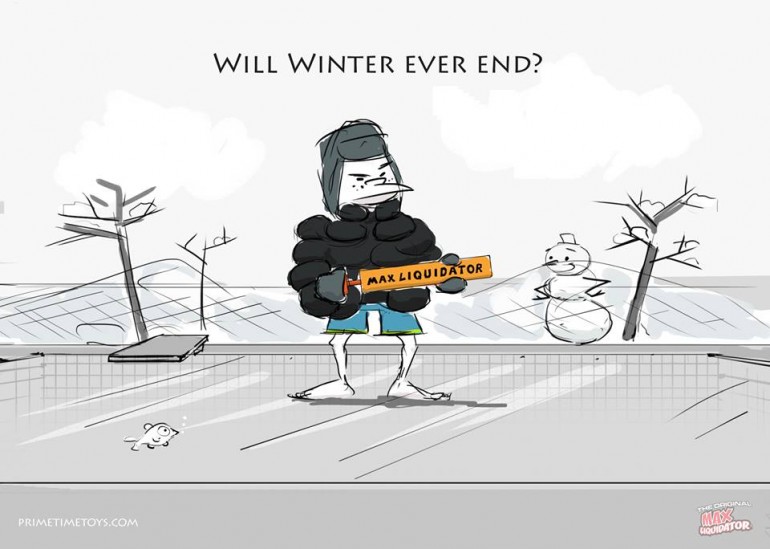 Custom Illustration are great for Social Media Graphics
Will Winter Ever End?
This time of year everyone can relate to that questions!   And it's the theme in this social media graphic custom illustration we produced for one of our client's ongoing social media campaign.
In this piece we see our character holding the colorful Max Liquidator water blaster (one of the client's most popular products) while standing on a frozen pool.
The image was posted and promoted on the client's Facebook page and received over 100 likes and 3 shares within about 3 days.

How do you come up with ideas for custom social media graphics?
Here at Going Interactive we like to have brainstorming sessions with our creative team. We get together and talk about what's going on in the world, be it time of year, weather, holidays, big media events (like the Oscars or the Super Bowl) and ask ourselves HOW can we tie a client's particular product or service in a cute or entertaining way.
We'll then usually do rough sketches of ideas and see which ones have legs to be click and share worthy as a social media graphic.
The winning idea will then be fleshed out in either Photoshop or Illustrator with a pen and tablet.
Once the final custom social media graphic is ready we post it on Facebook, Tweet it, Pinterest it, and depending on what the content is, post it to Instagram too.
We don't usually Boost the post on Facebook right out of the gate. But if we see the image is organically getting likes and shares we typically will then add a Boost to it to reach even more eyes. This helps expose the client's brand name and product to even larger audience.