Yes, clear your cache
Sometimes, especially if you are behind a corporate network, major changes made on a website do not reflect immediately unless users clear browser cache. If you've experienced this type of view, "I know there's changes but I can't see them", then users need to clear cache prior to seeing the new site. Cache clearing can be made easy by learning keyboard shortcuts. Some steps involved in cache clearing along with their keyboard short cuts are included below.
Clearing cache on some of the Browsers
The keyboard shortcut to clear cache on browsers like Mozilla, Chrome and Internet Explorer are on average the same. On entering the shortcut keys, corresponding pages/pop-up in different browsers will be displayed. There will be options for users to mark specific things like: caches, cookies, browser history etc. – where the user can mark accordingly.
Hopefully a few of these shortcuts will be helpful.
Explorer:
| | |
| --- | --- |
| Clear Browser Cache | Ctrl+R |
Select 'Tools' from the menu bar..>Click the option 'Delete browsing History'
The keyboard shortcut is Ctrl+shift+delete
Explorer 11: Usually a "force refresh" is enough. You can achieve this by pressing the following key combination:
Ctrl + F5
You may also view: https://www.youtube.com/watch?v=UOj0y4ddl9Q
Firefox:
At the top of the Firefox window, click on the Firefox button (or click on Toolson the menu bar) and then select Options.
Click on the Advancedpanel.
Choose the Networktab.
In the Offline Storagesection, click Clear Now.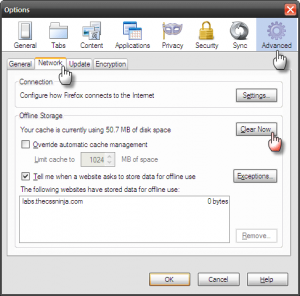 You may also view: https://www.youtube.com/watch?v=jZNMGz-0ovA
Chrome:
Copy this into your Chrome browser – chrome://chrome/history/ – and then click on Clear all browsing data button.

–OR-
copy this into your Chrome browser  – chrome://chrome/settings/clearBrowserData – and then click Empty Cache and then Clear Browsing Data.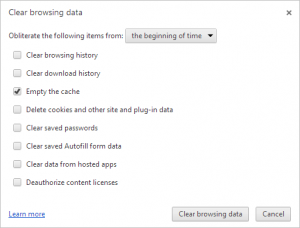 -OR-
| | |
| --- | --- |
| Open the Clear Browsing Data options | ⌘ + Shift + Delete |
You may also view: https://www.youtube.com/watch?v=t8xayHdZD2c
Safari:
For some reason Apple buried the ability to clear Safari's cache in the Develop menu, which you have to enable.
Safari > Preferences > Advanced > Show Develop menu in menu bar:
This then turns that feature "on" at the above tab area of your browser – check  Develop menu > Empty Caches.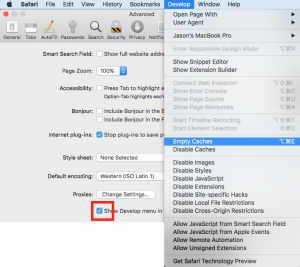 This is obviously not an exhaustive list but might help some users out there.
Remember, next time you or your designer / developer made big changes to your website and you don't see them right away…it's time to clear your cache.