Using My "Day Job" Skills with my Webcomic Hobby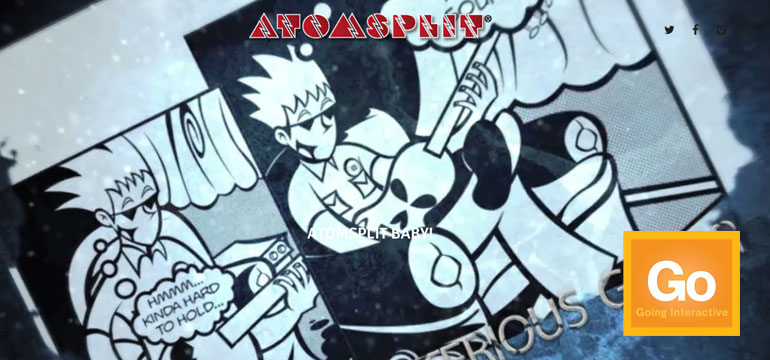 Publishing a Webcomic
(and promoting it with help from my Day Job Skills)
When I'm not working on website, videos, games or presentations for B2B and B2C clients I'm often working on the same things for myself – by way of my main hobby.
My main hobby is publishing a webcomic. A webcomic is a comic strip, or comic book that is published online. Usually 2 or three pages a week are published on a website.   The pages usually follow ongoing story arcs and adventures
The webcomic I publish is called Atomsplit Webcomic Website and it's about the ongoing adventures of an indie rock band that has sonic musical "super powers".
I've been publishing it for over five years now with the help of talented Atlanta based artist / illustrator / writer "G808".   We've published many fun and entertaining stories over the past few years with titles like "Atomsplit and the Cursed Guitars" and "Atomsplit and the Sonic Zombies".
I also put my other hobby – writing and producing music – to use on the series by creating accompanying music and sound tracks to the stories.
Sounds like fun right? It is!
What's great about it too is that my Going Interactive skills come into play as I produce the actual webcomic website, create videos and create games for Atomsplit.
Here's one of the story line promo videos we produced:
As well as produce unique content for social media out reach and publish Apple iBooks and Kindle versions of our compiled stories.
In addition to online promotion of the series we also do physical promotions at regional comic conventions like Heroes Con in Charlotte, MegaCon in Orlando and of course our huge hometown convention DragonCon. That's where I get to use Going Interactive production and technology resources like our digital interactive trade show games and animated trade show videos.
Here's a video of one of the games in use in our DragonCon Booth:
Everyone should have a fun hobby. Hobbies help clear the mind, relax you, and give you an often-needed mind and body distraction after putting in hours of hard work at the office.
But I'm extra lucky. I have a great hobby AND I get to take advantage of my "day job" skills to help promote my personal hobby – without it feeling like "work" 😉