The Need.
The Boys and Girls Clubs of Metro Atlanta, a local non profit serving kids and teens in over 20 clubs around Georgia. The Clubs provides a safe, positive, and engaging environment for over 3,300 kids and teens throughout the city and it's surrounding counties. Because BGCMA is a non profit, their shareholders have high expectations. Through a creative story centric focus, we helped bring a human side to the annual report while connecting real kid stories to the actual donors and sponsors.
The Solution.
The creative approach to the non profit Annual Report was to tell real stories of kids at the local Clubs. Of course the hardest part is to pick some out of many, but BGCMA directed us toward the most inspiring which hit each of the strategic mission pillars. The concept of "The Imprint You Made" wove the donor relationship into the child's achievement by showing what donations provide to Club kids. Custom photography was shot to help bring the stories to life, along with unique "prints" which when printed where raised for special texture and experience. The printed piece also  pushed viewers to read more about the stories online. Through a parallax style website, we created an energetic design mimicking the printed creative communications Annual Report. The microsite was responsive so it worked great on any device including desktop, laptop, tablet and mobile.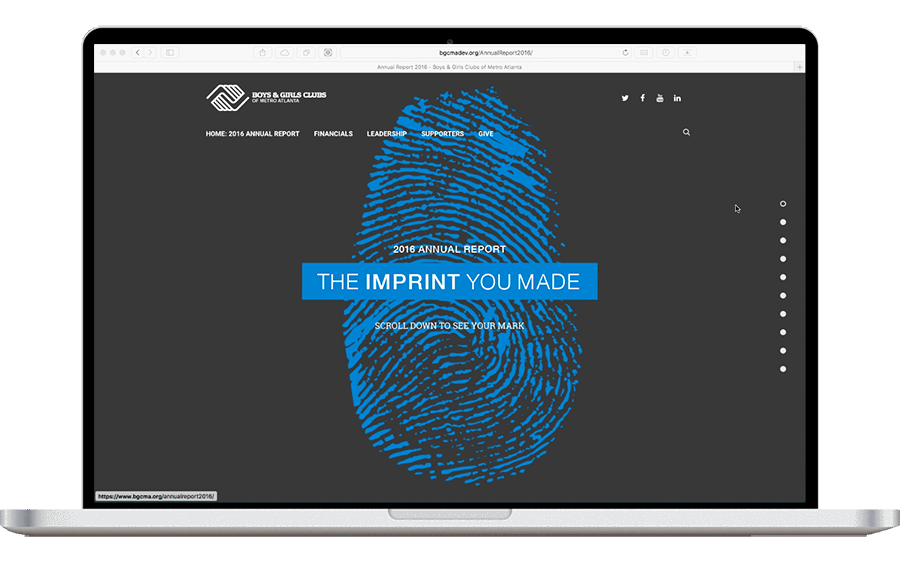 Going Interactive worked on strategic direction, usability, concept, design, development, print and website design and production.