We are an Atlanta based creative digital agency that has specialized in gamification design and development for touchscreens and trade show booths / exhibits since 1999. We have a number of fully customizable B2B oriented digital trade-show games to make your next show a game changer! Got an idea for a game you want to bring to life?  We can do that too!
Memory Match / Concentration
Match the Pairs

Tap-Away / Whack-a-Mole

Digital Slot Machines

Digital Spin Wheels
Interactive Digital Quizzes
Digital Jigsaw Puzzles
Custom Fruit Ninja Style Games
Custom Pacman Style Games
Custom Console Style Shooter Games
Memory Match / Concentration Game

One of our most popular games, this one features a digital game board grid of tiles that are turned over in pairs. The player tries to match the same game tiles as fast as they can.  Each time a match is made a corresponding phrase is displayed on screen. The game is great to promote your brand's products or latest marketing campaign. Also available with a lead generation form before game play and a leader board option. Works great on touchscreen monitors in both horizontal and vertical orientations. Fully customizable for your event.
Match the Pairs Game

In Match the Pairs the player views the digital grid of game pieces and attempts to match the "like pairs" as fast as possible. Think peanut butter and jelly, one of your product logos and an image of that product, a feature benefit statement and an image of your product. As the matches are made the branded message behind them are revealed. Leader board and lead gen add-ons available.  Great for B2B marketing trade show booths on a touchscreen display.
SCHEDULE A LIVE DEMO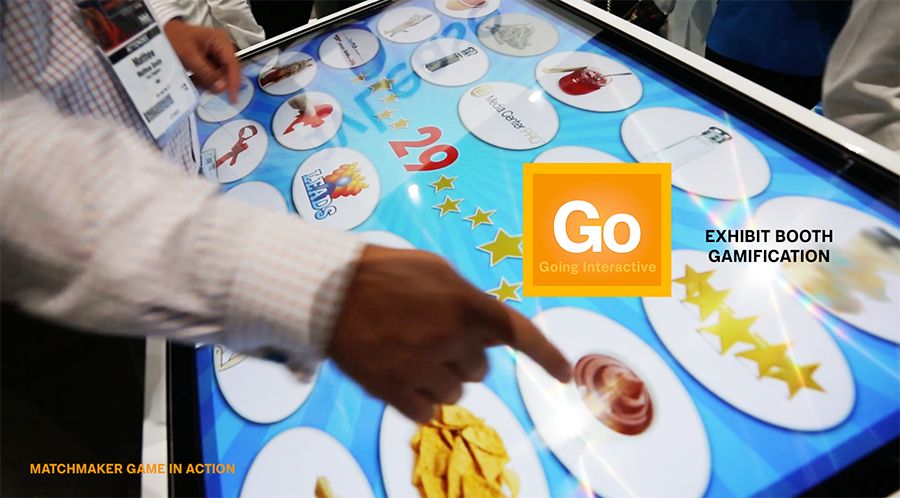 Digital Slot Machine

Another popular B2B gamification option (especially for Las Vegas trade shows and events), our digital slot machine is customized with your logos, product images, feature and benefit statements etc. in four "slot" windows. The player clicks SPIN and the game randomly lands on four slots. If the pieces are matching, they win the JACKPOT.  Each round of game play also features a unique animated marketing message.  This one is also great on iPads or touchscreen laptops in both smaller and larger exhibit booths.
SCHEDULE A LIVE DEMO
Tap Away / Whack a Mole Game

A number of B2B companies have gotten excellent results with our "Tap Away" game. This one is digital game based on the classic "Whack-a-Mole" game approach where items pop-up and the player attempts to hit / tap them for points – while avoiding a "negative" item that deducts points. The name, background and game pieces can be customized for your brand and messaging for a fun and engaging game play at your trade-show booth. Works great on large touchscreens.  Leaderboard and Led Generation form add-ons available.
SCHEDULE A LIVE DEMO
Digital Interactive Quiz

Our digital interactive quiz is a fantastic way for your company to promote its products and services via an interactive quiz format. It's also great to promote a process-oriented industry where different quadrants have different solutions. Fully customizable for your brand and products, players work their way through the quiz earning points as they learn about your products and services. Add-ons include leader board and led gen before game play. Multiple-choice and true/false version also available.
SCHEDULE A LIVE DEMO
Digital Spinwheel

Everyone loves a spin wheel! Our interactive digital version comes in two varieties. A click to spin and a drag-to-spin version. Wheel slices are customized to your specific prize offerings. Overall interface and background also customizable. As well as the "odds" of winning the levels. Works great on touchscreen monitors and iPads.
SCHEDULE A LIVE DEMO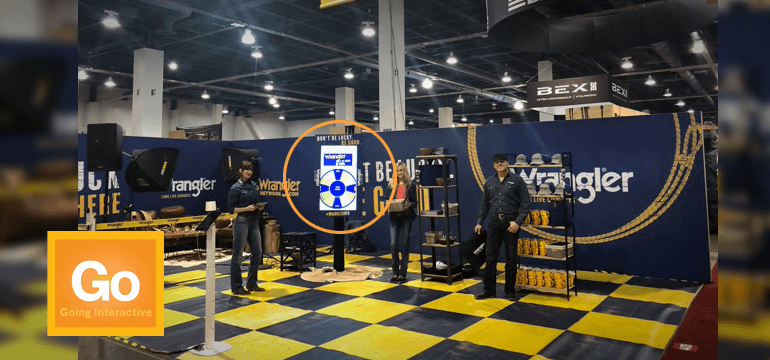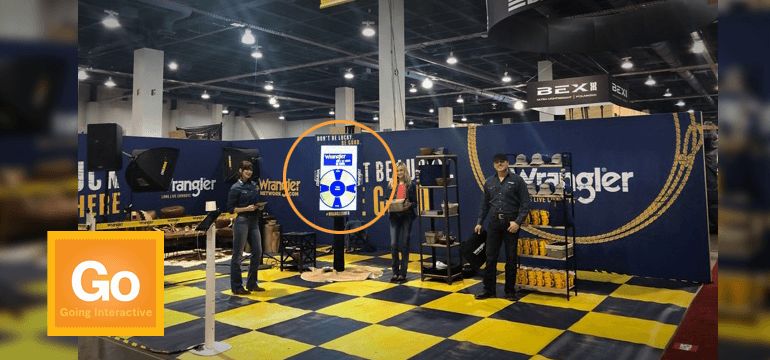 "Save the Day" Game

Our "Fruit Ninja" style game is an excellent way for your booth visitors to have some gaming fun while interacting with your product offerings. In this game objects fly at the player from the bottom of the screen as they attempt to "slice" or "collect" the positive items and avoid the bad or negative items. Game counter counts down as they collect points.  Game increases in intensity as it progresses. Custom design and illustration available to make your game REALLY an visually impressive experience. Available with badge scanning, lead gen and leader board options.
SCHEDULE A LIVE DEMO
Custom PacMan Style Game

Want to recreate a CLASSIC gaming experience for your company's next trade show or exhibit?  Check out our customizable Pacman game. All game elements can be customized and adapted / interpreted for your brand and industry. From the Pacman character, to the "ghosts", to the "pills, to the background – your booth visitors will truly have a fun time engaging with your brand and story. Playable with a joystick as well as a number of other input devices.
SCHEDULE A LIVE DEMO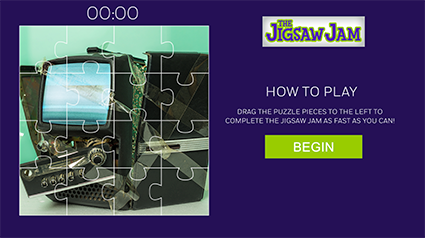 Digital Jigsaw Puzzle

Sometimes a simple approach to your trade show booth game works best. Our Digital Jigsaw Puzzle fits the bill. Players attempt to solver large jigsaw puzzles based on your brand imagery. The click and drag the scrambled pieces into the puzzle grid as the attempt to solve the puzzle. Game rotates through and handful of puzzles so back-to-back players always see a new one. Includes a "Solve it For Me" option if a player just wants to see the finished puzzle without finishing. Leaderboard and Lead Gen options available.
SCHEDULE A LIVE DEMO
 Brand Adventure Game

If you want to give your booth visitors more of console type gaming adventure our shooting gallery adventure style game is a great option. This game has multiple levels of adventures and tools for the player to choose from. The game play is shooting gallery style where branded objects fly into the interface as the play attempts to shoot them for points. Custom illustration and design available. Power-up options include badge scanning, lead gen entry and a cool leader board.
SCHEDULE A LIVE DEMO
Gamification for Trade Show and Exhibit Booths

We help companies create buzz, generate leads, communicate ideas, advance sales and engage customers via gamification.
We are strategists and designers and are able to clearly understand your business and design objectives in making trade show. and exhibit booth games that are effective, engaging, and right on target.
We're happy to discuss any size project you may have. Contact us today.
What Our Clients Say
Wow!…I just wanted to say how proud I am of this work and thankful to you guys for making it happen. Our kids really shine, the footage is outstanding, the music is moving, and it tells our story so well.
Melanie
Vice President of Marketing & Communications
"The website is amazing you guys!!! We have already gotten so many compliments!! Great job!!"
"People really enjoyed it and it got a lot of attention."
Sonal
Senior Manager, Corporate Events
Because of you, we had a brilliant meeting this morning!  We had boomers talking about how easy this was to navigate, they were surprised what an easy transition to paperless it was!
I just previewed the video... It is AWESOME!!!! You have met my expectations and I am just thrilled with it. Thank you soooo much. I can't wait to show it to our company at the big trade show event. On behalf of Marketing, we sincerely appreciate all the hard work and extra effort put into this. Thank you again.
Kate
Marketing Communications Manager
An extra special thanks to all of you for your contributions and support this year at NAA. The success of AG's exhibit presence would not have been possible without your assistance. I thoroughly enjoy working with each of you. It's evident we make a great team! Many thanks!
Frank
Creative Services Director
Get a
FREE Quote
on your Project today: